Express Online Facilitator Programme
Increase opportunities and help your team of trainers to master the digital world of online facilitation.
SyncSkills has been training organisations, like yours, to move to the virtual classroom with ease and confidence since 2014. With our personalised Online Facilitator Programme tailored just for you, we will get your team classroom ready in under 3 weeks!
We'll lead you through a process of change, to create learning materials which are more suitable for online delivery, build your engagement skills to support you with the challenges of working with learners in the virtual environment as well as real life practice of managing both the technology and the learning environment with confidence.
The course is structured around 3 live online sessions with related assignments to really embed the learning.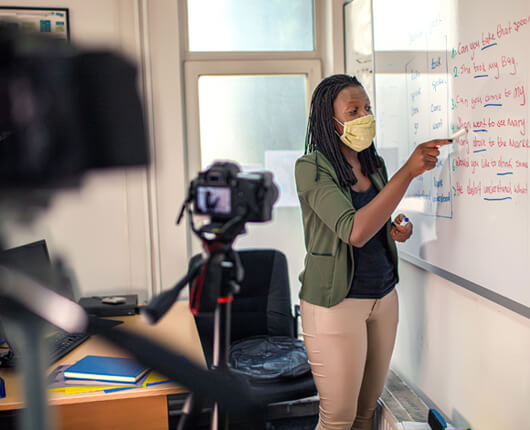 SyncSkills Online Facilitator Programmes
What will you learn
Introduction to online facilitation
Overview of the different tools available

How to address online learning challenges and develop instructional strategies

Designing meaningful activities and exercises

Creating professional and engaging materials

Structuring the online session to achieve results and avoid cognitive overload

Using pre-reading and post-session materials

Maximising the use of breakout rooms

Planning for disaster recovery

Uncovering the trainers digital voice

Creating effective visuals
Engagement from planning and design to facilitation
Planning a learning strategy based on mesurable goals and competences
Designing a learning journey to develop specific competences
Shifting learning journey design from content to practice
Creating simple and effective activities to engage and transform
Practising instruction and facilitation in a safe and fun environment
Sourcing technology to accelerate and increase learning impact
To learn more, click here

"My main learning objective was to understand how to translate face2face programmes into on-line in a way that still made it interactive and engaging. Having to plan an ice breaker and a small activity was a good way to think through how it could be done without making it to confusing/labour intensive for people, especially the activity on the last session.
Another point was to understand what could be done with the tech – and Gaelle was brilliant at that.
Thank you!"

"Learning from other participants in the group, design materials online and learning some of the interactive facilities."

"Gaelle is open, supportive, knowledgeable and generous with her time. I always felt safe and supported in the sessions. Gaelle also made the learning fun (as did the group) and the time flew by in each of the sessions."
1-2-1 Coaching Programmes
No time to organise a dedicated session for a cohort of trainers?
Require help to design an interactive session for an online project?
Coaching sessions can be organised at short notice and around your trainers' busy schedule. Our coach will work with your trainers to:
Identify specific learning objectives

Create measurable impact

Key points of engagement depending on group size, topic, learning objectives…

"Gaelle made me feel at ease and created a great, relaxed learning environment. I was a bit anti-online learning and Gaelle proved me wrong! Thank you!"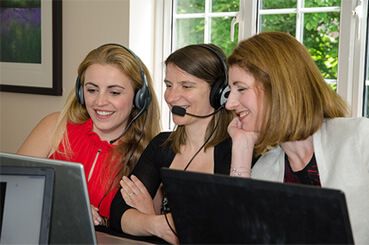 Can we help?
Are you looking to transform your team's facilitation skills or support one of your trainers with a dedicated virtual programme?
Tell us about your challenge and together we will spark innovative design and facilitation into your online programmes.