We've talked learners and their needs and we will come back to them, they are central to your planning, but there is more to the jigsaw. Getting to understand the organisation's goals is a huge challenge for external learning provider (and sometimes even for internal ones). Without a clear vision about the organisation's business goals and how you if you don't manage the organisation and its business goals then you are setting yourself up for failure from the start.
This year's Emerald Works report 2020 (Formerly Towards Maturity) talks of a mismatch between the ambitions of the learning leaders and their impact on the business and sadly this is deepening.
It's important that Learning and Development teams tighten their objectives to align with the business both from a success/measurement perspective but also in terms of delivering to the business needs and this is why learners are only part of the puzzle.
With this in mind, learning and development should be working toward this wholistic approach and you should be given access to something similar to below and it would be supported by Data collected throughout the organisation.
Ideal structured flow of professional development in line with 70-20-10
Let's face it though, it's more likely to be something similar to the below!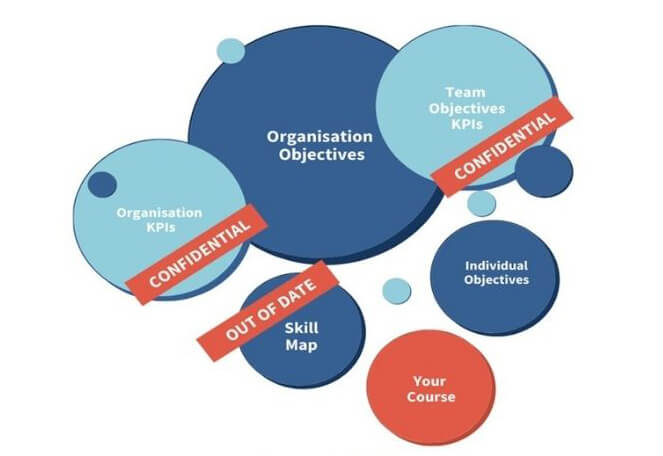 And this is just why we need to ensure that we complete a full needs analysis for the business seeking out the real needs based on data and not just the assumptions!
Misdiagnosis is an issue with all forms of training and delivery
When preparing for any kind of learning intervention (in person, virtual, blended, self -study) the implications are the same. Trainers and training organisations, you are dealing with the most valuable corporate asset, the skills and the knowledge base of the workforce are up to 80% of the value of that organisation!
With this in mind, you must seek to understand the constraints of the learners environment and goals but also the measurements and the KPIs of the business.
Businesses may be reticent to share this information
Trust: Fear that you will share this information with competitors or publicise their failures is the number one reason that businesses may not wish to share business KPIs
Ignorance of KPIs: It may be that whoever is sourcing training providers doesn't have access to the KPIs or is not in tune with the current reality of learning and development. Generally, these people will continue with the 'plaster' approach that a missed target or other human issues can be rectified with a quick day course.
Lack of data: Leading organisations (as per Emerald Works) have systems in place to collect and analyse a lot of data about their employees, activities and impact. Most organisations don't!
Whatever the reasons, it's important to get beyond these issues as the consequences to you as a trainer can be quite dramatic! Others in the organisation will be able to see that your course is missing the mark and not even beginning to address the internal issues and the perceive that you are not adding value but simply tying up valuable resources. In the end sadly, it is likely that you will lose the client eventually.
But what does this mean specifically for online training?
Taking the learning online, you must not only consider the issues raised above but also how the environment of an online session will mean a very considered approach to both the learner and the business.
1. Learner bias on digital training
We're all getting used to the working from home life and being able to continue training without having to commute or to take any unnecessary time out of the working day is appealing, but for some a trip away from normal working life for a day of development can seem like a big reward and let's not forget 'change is as good as a rest'! Especially in the current times, we may also be suffering from an element on online fatigue.
Any of the above can lead to negative behaviour such as negative comments, negative feedback, skipping elements of the course but what can you do?
Benchmark your course and make a clear difference between
Learner's preferences
Measurable learning objectives
Set up clear expectations
Create accountability
If, you have worked with your client beforehand and as previously discussed, established a learner profile and designed the course based on your findings and defined objectives.
2. Unrealistic expectations
These need managing from the start, don't let learning preferences and the level of enjoyment dictate the measure of success or failure of the training. Make sure you have implemented and benchmarked the course against clear measurable outcomes.
Of course, that's not to say online training isn't fun, social or enjoyable! It can certainly be all of these!